KBR
11/05/2019
22:20
30456
The Federation of Abkhaz Cultural Centers in Turkey has signed cooperation agreements with the Abkhaz and Abaza organizations of the KBR and the KChR in the framework of a working visit to these republics.
Said Bargandzhia
The delegation of the Abkhaz-Abaza Diaspora of Turkey in the composition of the chairman of the Federation of Abkhaz Cultural Centers (Abkhazfed) Atanur Akusba, the head of the Istanbul Abkhaz Center Shamil Iashba, the member of the Supreme Council of the World Abaza Congress Vedat Meker, the Plenipotentiary Representative of Abkhazia in Turkey Vadim Kharaziya and his assistant Astamur Bagateliya, visited Kabardino-Balkaria and Karachay-Cherkessia.  During the visit, a number of agreements were signed between Abkhazfed and several organizations of the KBR and the KChR: the Abaza Center for the Study of Culture and History of the Caucasian Peoples, ANO "Alashara" and the Abkhaz Cultural Center in the KBR.
 Abkhazfed chairman Atanur Akusba noted that the Federation already has "long-standing and fraternal ties" with these public organizations.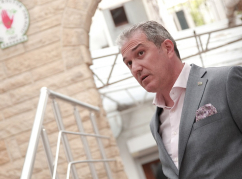 Head of the Abkhazfed in Turkey Atanur Akusba: The question is about the preservation of the nation
 "Our main task is to be together, communicate, help each other in organizing cultural events, in teaching native language, supporting young talents.  To this end, we have signed agreements," said Akusba.
 Summing up the working trip, Atanur Akusba said that the Turkish delegates were able, in particular, to "look at the work of the ANO "Alashara" from the inside and in many ways adopt its "tremendous experience" for almost six years of work.
 As for the interaction of the Abkhazfed with the "Abaza" Center for the Study of Culture and History of the Peoples of the Caucasus, meetings with the head of the Center, Vladimir Pshenokov in Abkhazia, preceded the signing of an agreement with this organization.
 "We [in advance] worked through various aspects to make the agreement effective and become a good support in strengthening our ties," said Atanur Akusba.
 The head of the "Abaza" Center, Vladimir Pshenokov, in turn, noted that it is necessary to develop and maintain relations between representatives of the Abkhaz-Abaza Diaspora, regardless of the country of residence.
 "The agreement is intended to solve exactly this goal.  The cultural aspect, language learning is very important for us," said Pshenokov.
 He added that the signed agreements provide for mutual assistance in providing various information, assistance to creative endeavors of talented people, assistance in organizing scientific conferences and other cooperation.
 The visit of the Turkish delegation to the KBR and the KChR lasted two days - from May 7 to 9.