Teacher of the Abkhaz language at the Abkhaz Cultural Center in Istanbul Dali Sandzawa told our correspondent about her students and shared that the main problem today is the lack of good textbooks, and admitted that, watching the progress of her wards, she is now firmly convinced that one can learn Abkhazian from scratch even in adulthood.
Interview by Asta Ardzinba.
- Since the autumn of last year you are conducting courses of the Abkhaz language in the Abkhazian cultural center in Istanbul. What are these lessons about and how many people visit them?
- On Saturdays we deal with children, on Wednesday with adults, on this day several groups are engaged in a row. All of them are representatives of the Abkhaz-Abaza Diaspora in Istanbul. We adjust to the working hours of our students. Therefore, on Wednesdays we meet after a working day and sit up here till night. Courses are attended by more than forty people. But there are many of those willing to join. I am constantly asked if there will be a new enrollment next year. But so far I have no answer to this question.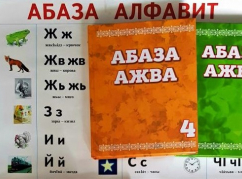 Murat Dzhandarov: Abaza language should remain native for Abaza people
My youngest student is six years old; the oldest students are already over sixty. The groups are divided not only according to the age criterion, but also by the principle of knowing the language or starting from the basics. Not a few among the adult pupils of those who know the Abkhaz well, but cannot write and read.
Each lesson lasts two hours, but even after the lesson, people are not in a hurry to disperse. For them, this is the only opportunity to learn their native language.
- Your children's group, which we observed, seems to be making progress. Children speak good Abkhazian.
- We started with them in November last year. For five months they have learned to write and read. They can translate the read, tell about themselves, about their families, their hobbies, they know and love poems of Abkhazian poets. Grammar is more difficult, but we also manage to cope with it.
I was very worried that the children would get bored with classes. But all eight guys who started from the beginning attend classes so far. None of them left the courses.
- What textbooks do you use?
- I have several manuals at once, from which I collect various exercises, based on what is more suitable for my groups. The main textbook is the Abkhaz language for the third grade for Russian schools. Compiled by Ajiba and Kortava, edition of 2014. A textbook developed for Russian schools is most convenient for studying. Other manuals that are issued in Istanbul are less thought out, assignments and words are difficult for those who start from the basics; the teaching methodology leaves much to be desired.
I myself translate all tasks into Turkish. So we leave the situation in conditions when there are no training programs for the Abkhaz language for Turkish speakers. We have one book for all; we make copies of it and distribute them. Soon we need to go further, but we have not yet been able to get textbooks for the fourth and further grades. We reported this to Abkhazia and very much look forward to the assistance of the Ministry of Education in this matter.
- Is one class per week enough for a group?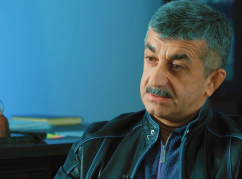 Mussa Ekzekov named the main tasks facing the WAC
- We would be glad to meet more often. But children go to school and adults work. Therefore, meetings on Saturdays or after work are all that we can afford.
Abkhaz language courses also take place in other derneks (centers), for instance Gunda Ankuab conducts a course in the Caucasian center in Istanbul, Oksana Tarba in the city of Inegul, Alice Argun in Adapazar. The girls were sent to Turkey from Abkhazia, but their course, which was designed for a year, is coming to an end this month. My little pupils ask to extend their classes for the summer, when they have a vacation at school, and they are freer. Because here we will study until August.
- The Turkish alphabet is created on the basis of the Latin alphabet, the Abkhazian on a Cyrillic basis; students have to learn from scratch. Is this an additional challenge? At the same time, for a long time, the Abkhaz alphabet on the basis of the Latin alphabet was common among the Diaspora. Which version do you follow?
- We are working with the variant of the alphabet, which is used in Abkhazia, that is, on a Cyrillic basis. There are no great difficulties in the study of writing among children or adults.
- Dali, did you live most of your life in Abkhazia, during the years of your life in Turkey, did you manage to get used to the local realities?
I've been here for about seventeen years. My husband was one of the first representatives of the Diaspora who came to Abkhazia to get higher education. There we met and lived the first five years of marriage. Then we moved to Istanbul. My son is equally fluent in Abkhaz, Turkish and Russian. He studied at a Russian school at the Russian consulate in Istanbul.
In the family we talk among ourselves in Abkhazian, for me this is a matter of principle. I understand how difficult it is to keep the language in a foreign country and in a huge metropolis, and therefore I try my best. It is no problem to learn Turkish, it's enough to go out into the street, but the Abkhaz should be protected, it's necessary to work on it.
- I've heard that the Abkhazian youth in Turkey lost their native language. If the older generation speaks the Abkhaz, although they cannot write and read, then young people do not even know the basics.
- True. I saw this in the example of my students. Those who are over forty know the language, but those who are younger - no longer. This happened because the elders grew up in villages where the Abkhaz lived compactly. However, forty or thirty years ago people began to immigrate from the villages to the city. This is still happening. In large cities, compact living is impossible and children grow up in a Turkish-speaking environment. As a result, they begin to speak and think in Turkish. For them, the only opportunity to join their native culture and learn their native language is to visit the Abkhazian cultural center.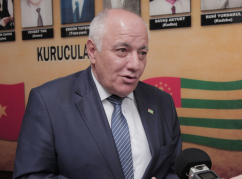 Vadim Kharazia: the Abkhaz culture can be saved only with the help of the Diaspora
- Have your students been to Abkhazia?
- In exercises often there are geographical names, and children ask where Gagra is, and which city is more beautiful, Gagra or Sukhum? It is all because most of them have never been to Abkhazia. I try to talk about Abkhazia, about its traditions and history, tell more about the canons of Apsuara.
This year we decided to send the best pupil of the children's group to Abkhazia in the summer. However, when they learned about this at the Ministry of Repatriation in Sukhum, they asked for a list of all eight students. Probably, this year the guys will go to Abkhazia for the first time.
- Do they know the Abkhazian literature? Do they know who Dmitry Gulia is?
They know Gulia. It is impossible to learn the Abkhaz language and not to know about him. However, they are, of course, not familiar with the Abkhazian literature. It is not translated into Turkish. If there are translations, it is extremely difficult to get them.
- There is a stereotype that the Abkhaz language is so complex that it is impossible to learn it.
- Not true. I will not hide it, I myself thought so for a long time, until in practice I was convinced of the opposite. It is quite possible to learn the Abkhaz language in a few years. My students have advanced noticeably in the study. With vocabulary they have no problems, difficulties arise with grammar.
We work two hours a week, but all the rest of the time we are in touch. We have a general chat in the messenger, where I am asked questions that arise when doing homework. I try to respond quickly and discuss any topic.