Read in an interview with the Chairman of the Supreme Council of the World Abkhaz-Abaza Congress (WAAC), the President of the International Association for the Development of the Abkhaz-Abaza Ethnos "Alashara" Mussa Ekzekov about the main tasks facing the people of Abaza, the natural conditions for the return of compatriots to their historical homeland and the development programs of the ethnos.
Interview by Asta Ardzinba
- Mussa Khabalevich, good afternoon! My first question is how to confront the challenges facing the Abkhaz-Abaza people today? What should be done to form the conditions under which the ethnos would continue to develop?
- We all need to learn how to talk to each other in a new way, to hear each other, to understand each other. Learn to determine which tasks must be addressed and, most importantly, to learn how to find together ways to solve the pressing problems that we face.
The most important is that we have to learn to speak in one language, understood by each of us, so that we understand that we are one family, so that each of us is responsible not only for his thoughts, words or actions, but also for his neighbor. No one should be indifferent to what happens to every member of our family, each of us must learn to think that it's good not only for him, but for the rest.
I perceive our people as one big family, and there are no strangers in a family!
- How to implement this in reality?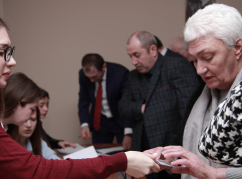 The second meeting of the VII Congress of the World Abaza Congress
- We have a very good experience in the North Caucasus. You can speak once, repeat the same thing twice, at least, it does not do you any good. Any conversation should be supported by a concrete deed. We, in particular, write programs in the implementation of which we involve the maximum number of representatives of our people.

I will bring an example. The village, where five years ago there was a feeling that after a couple of years everything would be gone - drunkenness, people had emptiness in their eyes, no one understood what to do. To make a long story short, everything was overgrown. Absolute hopelessness. Today in this village, almost every second person has his business plan, the residents themselves repaired the roads, built a park, restored the House of Culture. If two or three years ago very few people cultivated the land, then today there is no uncultivated land at all. People stood up and went to work.
Mussa Ekzekov named the main tasks facing the WAC
© WAC

- What can induce desperate people to change their perception of the world? How one can come from despair to universal well-being?

- We have created women's councils, councils of elders. There is an organization "Alashara", which in Karachaevo-Cherkessia has been working specifically for the seventh year on the program of preservation and development of the ethnos. In the structure of the organization there are leaders in various areas, be them youth, family and children, sports, medicine, education. Heads in various directions form expert councils, they include our best specialists in various fields, professionals in their areas. Together with these experts, we identify the problem, select priorities and write programs that we implement afterwards. We have been working this way for the seventh year already.

A year ago we united all public Abazin organizations in a single organization called "Apsadgyl", which now, as one big family, embodies our programs.

We write detailed programs, specifically for each village and with the participation of villagers. No one knows better than the residents themselves what problems they have. When developing the program, we also determine what potential each village has and respectively the villagers: intellectual, material and etc. Next we determine the people from this village, we study what potential they have and how they can help. We formulate the village budget, proceeding from the fact that it can include the district budget for this village, the republican budget, the federal budget.

- What is the reaction of local authorities to this social activity?

- We saw a serious understanding on the part of the authorities. It was important for us. You can not come even to your native republic and, without telling anyone, start gathering people and explaining something to them.

We study republican programs in the field of culture, sports and others. We are learning to combine our programs with the republican one, so that together we create a synergistic effect of our common work.

- How can the "Alashara" experience be applied in the work of the World Abkhaz-Abaza Congress?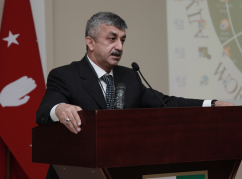 The Seventh Congress of the World Abaza Congress continued its work in Sukhum

- According to the charter of the WAAC we have to create regional offices in all places of our people's living, with their help we will implement programs on the line of the WAAC. During this year, we will write programs for the diaspora, specifically for a particular country and a certain region. It is important to understand that in each region there are own laws and certain requirements, we will take them into account.

In addition, everything will depend on the willingness of our compatriots abroad to participate in them. We will monitor the situation, depending on their readiness, we will offer solutions to certain tasks.

- What are the main tasks of the WAAC?

- There are four main tasks. The first is to find all our fellow citizens, wherever they live, to include them in the process of creation. Further, and this will be the second task, we will unite all our efforts and solve problems in order that our ethnos is not reduced, but increased. In parallel, we need to unite our business community to form our opportunities. And, finally, it is necessary to form a comprehensive program for the preservation and development of the state of Abkhazia.

We will unite our whole business community from all over the world and will work to ensure that Abkhazia in all directions, including the economic one, develops very dynamically. Only in this case will we be able to create natural conditions for the return of our brothers and sisters to their native country. Abkhazians in Abkhazia can not do this themselves, we will make it together, because this is our common Motherland. We should make our small country a country of great opportunities, huge potential.