KChR
20/07/2018
20:00
17419
The fifth games of the Abaza people, including the Taras Shamb Cup, will be held under the auspices of the World Abaza Congress, "Alashara" and "Apsadgyl" Associations in Karachay-Cherkessia.
Said Bargandzhia
According to the press service of the World Abaza Congress (WAC), the Taras Shamba Football Cup will be held during the Fifth Games of the Abaza people in Karachay-Cherkessia.
Games of the Abaza people with the participation of national teams from Abkhazia, Karachay-Cherkessia, Kabardino-Balkaria, Moscow, Stavropol, Jordan and Turkey will start on July 21 in the Abazin village of Inzhich-Chukun in the Karachay-Cherkess Republic. This year, the Games of the Abaza people will be held under the auspices of the World Abaza Congress, the Association for the Development of the Abazin-Abkhazian Ethnos "Alashara" and the Association of Abazin Public Unions "Apsadgyl".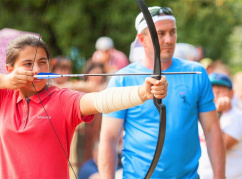 National games have united representatives of the Abaza people from different countries of the world
The organizers of the competitions decided to establish a football cup in honor of the forthcoming 80th anniversary of one of the founders of the Congress, the president of the International Association of the Abkhaz-Abaza People (IAAAP) Taras Shamba - a famous scientist, doctor of law, professor.
The Chairman of the IAAAP, Mussa Ekzekov, highly appreciated the role of Taras Shamba in restoring historical ties and consolidating the representatives of the Abkhaz-Abaza people around the world.
"For all Abkhazians and Abazins Taras Shamba, the founder and president of IAAAP, was known for many years. We are grateful to Taras Mironovich for his work, we consider it an honor to take the baton of the future work of the Congress from his hands, and also appreciate his role in preserving and strengthening the ties between the representatives of the Abkhaz-Abaza ethnic group throughout the world. Taking into account the fact that Taras Mironovich played for the youth team of Abkhazia and for Sukhum "Spartak", we decided to play a football cup, timed to his 80th birthday," the Chairman said.
Ekzekov also stressed that noting the merits of the elders, the younger generation demonstrates their respect for them, and in particular those who, at any age, continue to engage in active social activities, defending their civic position and showing the example of longstanding service to the people and the Motherland.
"We will continue to celebrate the merits of each of the older generation who by their example form a respectful attitude of the young to the elders," said Ekzekov.
Teams will compete in various sports such as football, volleyball, running, shooting from air rifles, arm wrestling, long jumps, archery and tug-of-war.
Games of the people of Abaza are held in the Karachay-Cherkess Republic for the fifth time. The geographical boundaries of the participants of the competitions are expanding every year, covering new regions of Russia and abroad.