The National Flag Day of the Republic of Abkhazia was celebrated by representatives of the Abkhaz-Abaza ethnic group living in Istanbul.
Said Bargandzhia
The National Flag Day of Abkhazia, which is also called the Day of Culture in the countries of compact settlement of the Diaspora, was celebrated by representatives of the Abkhaz-Abaza ethnic group from Turkey.
Festive events took place on the outskirts of the city of Eskishekhir and in the Abkhazian village of Tandyr. About 1,500 people from different regions of the Turkish Republic took part in the events dedicated to the Flag Day. With the active assistance of the World Abaza Congress and public diaspora organizations, a concert program was held, in which folklore and choreographic groups, students from Abkhazia, students from Turkish universities, singers and writers participated.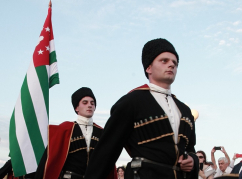 Red-green-white Day, or the "Open palm" Holiday 
Participants of the holiday were addressed by the Chairman of the Federation of Abkhazian Cultural Centers, Atanur Akusba with a welcoming speech. He noted that the Federation has existed since 2009 and during the last three years the National Flag Day of the Republic of Abkhazia is celebrated annually.
"This is a holiday for all our compatriots around the world. In today's festivities in Eskishekhir, high-ranking officials of the district took part. I sincerely congratulate all of you on this important for all of us day. We especially appreciate the Abkhazian flag, because hundreds of our brothers and sisters have sacrificed their lives for it," said Akusba.
The plenipotentiary representative of the Republic of Abkhazia in the Turkish Republic Vadim Kharazia also addressed the participants of the event. He stressed that such holidays bring together representatives of the Abaza people living all over the world.
"Our ancestors gave their lives for their banners. The flag united us in the most difficult times. I hope that in peacetime the flag will become a consolidating factor," Vadim Kharazia said.
According to Inar Gitsba, the Executive Secretary of the World Abaza Congress, who also took part in the event, its main feature was the holding of a video-link. Thus, they managed in real time to unite participants in solemn actions in Abkhazia, Karachay- Cherkessia, Turkey and Jordan.
"Such ideological actions have a unifying effect, promote the level of self-awareness, stimulate the aspirations of our compatriots living in different countries, to be involved in the ethnocultural environment, bring them closer to the historical Homeland," Gitsba said.
The modern state flag of the Republic of Abkhazia was approved by the session of the Supreme Council of the Republic of Abkhazia on July 23, 1992 in the city of Akua (Sukhum) after the decision to terminate the Constitution of the Abkhaz ASSR of 1978 and restore the SSR Constitution of Abkhazia of 1925. Since 2005, the Day of the National Flag of the Republic of Abkhazia has officially been celebrated as a holiday on July 23.