News
18/09/2019
17:25
18514
The World Abaza Congress launched the Arabic version of its website, timed to coincide with its opening on the anniversary of the multilingual portal. Now there are six languages of broadcasting of the WAC portal.
WAC press service
The launch of yet another language version of the WAC web information portal for compatriots who speak Arabic took place on Wednesday September 18th, a year after the site was opened. Until now, the information portal broadcast in five languages: Abkhaz, Abaza, Russian, English and Turkish. Thus, the Arabic language became the sixth broadcast language of the multilingual portal.
"Now the web information portal of the World Abaza Congress officially broadcasts in six languages," said the head of the portal, Amina Lazba. "These are the languages spoken by a large Abkhaz-Abaza Diaspora scattered throughout the world. Now our compatriots from Egypt, Jordan, Syria and other countries of the Middle East will be able to read about the activities of the Congress, the history and culture of our people and the most significant events in the homeland in the Arabic language available to them. In general, the entire Arab world, not directly related to Abkhazia, thereby gets the opportunity to learn about us, so to speak, from the original source, and we can tell about ourselves to even more people."
The head of the information portal said that specialists worked on the Arabic version of the site for six months. She noted that the Arabic language has its own specifics in terms of the language itself and the technical features of its use, therefore, "it took more time to work with it" than in the case of languages of previously launched versions.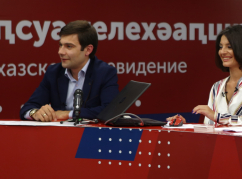 Amina Lazba about the WAC portal: we will tell the world about us
Lazba explained that an important feature of the launch of the Arabic version was the fact that by the launch of the website all materials, written for the portal's year of operation, were translated and published. "And this is about 350 text materials and more than three thousand media files," she added.
The new broadcasting language will also allow representatives of the Abkhaz-Abaza ethnic group from Middle East countries to fill out applications for joining the Congress in Arabic and thereby replenish the ranks of the WAC, the purpose of which is to establish contacts between representatives of the Abkhaz-Abaza Diaspora around the world.
Amina Lazba also said that now the team of the Congress web information portal is working on new technical capabilities of the website, which will be gradually introduced into the main functionality. In 2020, many interesting information projects are going to be presented, the head of the portal promised.
She added that the project has many ideas and plans that will be gradually implemented.