Mikhail Trapsh, the famous scientist and classic of Abkhaz archeology, who left an invaluable legacy not only to the historians of Abkhazia, but also to all Caucasian historians was born on October 10, more than a century ago. The WAC web information portal publishes an essay about him by this date.
Arifa Kapba
The first professional Abkhaz archaeologist Mikhail Trapsh laid the foundations of Abkhaz archaeological science, and his work became the foundation on which other well-known Abkhaz scientists later built their research.
Mikhail Mametovich Trapsh's love of archeology comes from childhood, many of his colleagues are sure. The very first object of his study was the Kulanurkhua burial ground, which is located in close proximity to the house where Mikhail was born and raised.
Secrets of native land
He was born in the village of Kulanurkhua (a village in the Gudauta district of Abkhazia - ed.) on October 10, 1917 in the family of a peasant Mamet Trapsh. He spent seven years at the Gudauta School, then graduated from the Gudauta Agricultural College. However, the young man was not much interested in agriculture: he was more interested in antiquity, history, carried away by the secrets that the earth keeps. And in 1935, Mikhail Mametovich entered the history department of the Sukhum State Pedagogical Institute. Having brilliantly graduated from high school, Trapsh went to study in graduate school at the Javakhishvili Institute of History in Tbilisi.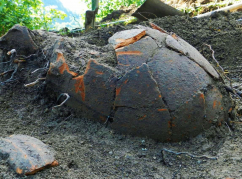 Abkhaz finds and international congresses of the archaeologist Ece Trapsh
"There, he proved himself to be a promising young man, - says Arkady Dzhopua, Ph.D. in archeology, - but in 1939, almost immediately after admission, he was drafted into the army. He served in the Crimea, in the city of Simferopol."
And very soon the Great Patriotic War began, and Mikhail went to the front. It is known that he participated in the battles for the liberation of Leningrad. Trapsh went through the whole war and returned to his homeland only after it ended.
Another modern archaeologist, doctor of historical sciences Oleg Bgazhba recalls those times.
"I have known Mikhail Mametovich since childhood, but my very first vivid memory of him was from around 1947. He was already demobilized then, but for some reason he was wearing a military uniform. If I'm not mistaken, he was a cavalryman," says the scientist, who later worked closely with the famous archaeologist.
Having served his motherland in the war, Mikhail Trapsh returned to his beloved work, to which his soul always aspired.
"In 1948, Trapsh started archaeological excavations in the native village of Kulanurkhua and discovered there a burial ground of the Late Bronze and Early Iron Age of Colchis and Scythian cultures," notes Arkady Dzhopua.
This burial ground subsequently received the name Kulanurkhua, his detailed study became the basis of the dissertation, which Mikhail Mametovich defended in 1951. The value of this work, according to experts, lies in the fact that the Kulanurkhua burial ground was the first scientifically studied monument of the Late Bronze and Early Iron Age in the whole of Western Transcaucasia.
Exploring ancient Sukhum
Another scientific topic that the archaeologist studied deeply was the ancient Sukhum. Mikhail Trapsh began excavations in the capital of Abkhazia in 1951 on Mount Sukhum. There he first discovered the bronze foundry workshops of the late Bronze Age. From 1956 to 1960, Trapsh dug up a large burial ground in the village of Krasny Mayak. For two years, he also explored the medieval fortification on Mount Bagrat. It was as a result of his large-scale archaeological work and based on finds that Mikhail Trapsh made the conclusion that the Roman city of Sevastopolis was once located on the site of the modern city of Sukhum.
Another significant archaeological expedition, which was also led by Mikhail Mametovich, was the Tsebelda expedition in the vicinity of the village of Tsebelda (Tsabal). It began in 1960, and ended in 1967. Over the course of these seven years, more than 180 graves were discovered there.
Scientist, teacher and mentor
Many young talented archaeologists worked under the leadership of Trapsh in Tsebelda.  And Mikhail Mametovich himself, paraphrasing the physicist Isaac Newton, was the very "giant" on whose shoulders stood the future stars of Abkhaz science.
"All archaeologists who later became the luminaries of our science, such as Georgy Shamba, Mikhail Gumba, Yuri Voronov, Oleg Bgazhba, all worked in archaeological expeditions under his leadership and in a certain sense of the word were his students, followers. In Tsebelda, he discovered burial grounds on five hills, and each hill was "given" to [certain] scientists, so that they would continue to study and research it. This could be done only by a [not just] high-class scientist, but also a good person,"Arkady Dzhopua is convinced.
Oleg Bgazhba was also a student at the excavations led by Trapsh in Tsebelda. The scientist recalls: "I was already in my last year, when Mikhail Mametovich began to read a very interesting special course on archeology of Abkhazia to freshmen. And I began to attend these lectures, I needed it for admission to graduate school. Being in my fourth year, I attended lectures of freshmen, among which, by the way, was [the future First President of Abkhazia] Vladislav Grigorievich Ardzinba. I found myself in the excavations in Tsebelda in 1961 and spent there a whole season. We lived in the Voronovs' house, in the "Yasochka" (Voronovs' estate in Tsebelda - ed.). Early in the morning we went to the excavation of burial grounds. Mikhail Mametovich was a calm, silent person, he didn't dig, but sat and did sketches, took photographs, but we brought him everything interesting that we found. So I went to Tsebelda for excavations for several years. Thanks to this work, the whole culture of the Tsebelda necropolises was discovered and investigated (a complex of burials of the ancient world - ed.)."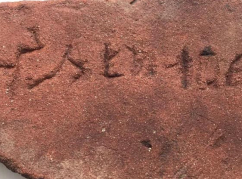 Ancient plate with inscriptions in Aramaic discovered in Abkhazia
Among other important works of the classic of Abkhaz archeology is the study of Novy Afon, in particular, the Anakopia fortress, as well as excavations in Pitsunda.
In addition to scientific activity, Mikhail Mametovich from 1955 until the end of his life taught archeology to students of the Sukhum State Pedagogical Institute.
Mikhail Trapsh was a respected scientist far beyond the borders of Abkhazia. During his studies and archaeological practice, being on various expeditions, he met many luminaries of historical and archaeological science and kept in touch with them all his life. For example, he was familiar and collaborated with such eminent scientists as Alexander Iessen, Evgeny Krupnov, Boris Piotrovsky.
Priceless heritage
According to Oleg Bgazhba, Mikhail Trapsh was a hardworking and meticulous scientist, of those who "measured his cloth seven times before cut."  He never rushed to scientific conclusions, which led to the fact that all his dating was considered accurate, and this is a significant moment for archeology.
"He worked a lot, and on weekends too, he sat in his office all the time, wrote, smoked a lot. Here the time for the defense of the doctorate came up. It can be said that Mikhail Mametovich prepared two serious works for defense at once: one on ancient Sukhum, the other on Tsebelda - and could not choose which one to submit for defense. Unfortunately, he did not have time to defense his thesis - he died suddenly," says Bgazhba.
The legacy of Mikhail Mametovich Trapsh is vast and priceless. This is a solid foundation for Abkhaz archaeological science, and not just Abkhaz, says archaeologist Arkady Dzhopua.
"Without exaggeration, we can say that Mikhail Mametovich is a classic in archeology, not only among Abkhaz, but also among Caucasian experts. He did a lot for the prestige of our history. For those who thoroughly study the archeology of not only Abkhazia, but the entire Caucasus, for the Caucasian historian-archaeologist of any nationality, the study of the works of Mikhail Mametovich Trapsh is necessary," said Dzhopua.
Mikhail Trapsh lived a short life, died at the age of 51 on February 28, 1968.
Little is known about his personal life. Trapsh was married twice. His second wife, Valentina Grigoryevna, participated in the archaeological excavations of her husband and treated his work with great respect and participation. "When Mikhail Mametovich died, - says Oleg Bgazhba, - it was through her efforts that four volumes of his works were published. She went to various instances, requested that the work could see the light of day, and this happened only thanks to her great perseverance. Of course, Yura also helped her with the publication (archaeologist Yuri Nikolaevich Voronov - ed.), but basically it was her merit."
After the scientist's death, Valentina Grigoryevna participated in archaeological expeditions as a laboratory assistant for many years in memory of her husband. Together with Svetlana Khocholava (wife of Yuri Voronov - ed.) they were washing and cleaning archaeological finds, for example, ceramic dishes.
"After the war (Patriotic War of the people of Abkhazia 1992-1993 - ed.), we lost her trace, just as we do not know where Mikhail Mametovich's daughter from his first marriage is" says Oleg Bzhazba.
The whole life of Mikhail Trapsh was devoted to selfless service to science, he became the founder of Abkhaz archeology.  It was his scientific research that helped to get an idea about the distant past of our homeland, which is why the promotion and publication of his works is so important. It is known that by the centenary of Mikhail Mametovich Trapsh, it was decided to reissue the four-volume edition of his works, and at the suggestion of Arkady Dzhopua, to add to the publication also the fifth volume, which would incorporate Trapsh's articles published in various, including foreign, periodicals.