The Operational Headquarters for protecting the population from coronavirus released a video message from the head of the Ministry of Finance of Abkhazia, reporting that salaries and social benefits to citizens in the conditions of a pandemic and a state of emergency will be paid without delay.
Salaries and social benefits in Abkhazia under the conditions of measures taken to prevent the spread of coronovirus infection will be given to citizens on time and in full.  This was stated by the Minister of Finance of the Republic of Abkhazia Dzhansukh Nanba.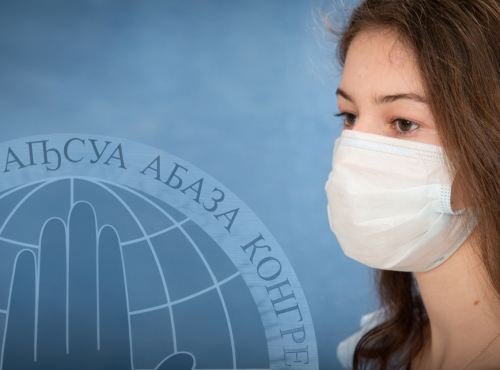 WAC is actively involved in the fight against coronavirus infection COVID-19 in Abkhazia
Nanba emphasized that with the declaration of the state of emergency, the budget revenue sharply decreased.  Nevertheless, the Government of Abkhazia, headed by the Prime Minister, Acting  President Valery Bganba, takes prompt measures to eliminate failures.
"Salaries and social benefits to citizens will be paid on time and in full.  Of course, for this we had to reorient the expenditure side of the budget.  The Acting President gave clear instructions to all budgetary organizations about the impossibility of accepting budgetary monetary obligations previously planned in their estimates that are not related to payroll and payment of salaries and measures to combat the coronavirus.  This forced measure will allow us to consolidate all available financial resources and direct them to the primary tasks," said the Minister of Finance.
According to the forecasts of the Abkhaz Ministry of Finance, there are two scenarios for the development of events: optimistic and pessimistic.
"If the current situation here ends within one to two months, then we can quickly enough delay the economic downturn and get out of it with minimal losses.  But if the pandemic continues for a longer period, then it will be necessary to revise the budget at the level of the legislative branch, that is, there will be proposals for sequestration (reduction of costs - ed.) of the budget expenditures," Nanba said.
He added that Abkhazia receives financial assistance from the Russian Federation "in full and on time".
For everyone who wants to help Abkhazia in the fight against the spread of COVID-19, there is an opportunity to contribute to the bank details of the Moscow Abkhaz Diaspora or "We are together" movement from the territories of the Republic of Abkhazia and the Russian Federation, as well as to the details of the "World Abaza Congress" from the territory of the Republic of Turkey, or  make an online donation on the Congress website.  All funds received will be used to protect the life and health of residents of Abkhazia from coronavirus infection COVID-19.