The photo exhibition "The Time of Happy Finds" dedicated to the anniversary of the national artist of Abkhazia, Sofa Agumaa, was held in the Central Exhibition Hall of Sukhum on December 20.
Said Bargandzhia
More than 70 photographs from the personal archive of Abkhazia's people's artist Sofa Agumaa were presented at the photo exhibition "Time of Happy Finds" on Thursday, December 20. The exhibition was dedicated to the 80th anniversary of Agumaa and introduced the guests to the most significant moments in the life of the actress.
The cause of her entire life is, of course, the theater, Agumaa herself admitted, talking to journalists. She said that she cherishes every role in her heart, that all of them are "like children" for her.
At the grand opening of the exhibition, congratulations from the President of Abkhazia Raul Khadzhimba were read out. The Head of the Republic noted the significant contribution of Sofa Agumaa "to the education of young Abkhaz actors, the formation and artistic guidance of the Abkhaz State Youth Theater".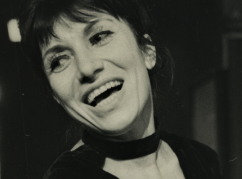 "Stage Children" and New Roles: About the Life and Work of Actress Sofa Agumaa
Agumaa, in turn, shared with the guests the plans of the Youth Theater, which she is heading. She said that the theater intends to stage several new performances - in particular, to "revive on the stage" the heroes of the epochal work by Bagrat Shinkuba "The Last of the Departed".
"We have many plans, God willing, we will implement everything," the artist expressed her hope.
Among the visitors there were many young people and other guests - not only from Sukhum, but also from other towns of Abkhazia.
"I came with great joy. I saw with my own eyes many of Sofia Agumaa's performances - there is always a bright aftertaste. Long creative life!"- shared her attitude to the favorite actress Milana Shulumba from Gagra.
A lot of warm words were said at the event.
"The incomparable, delightful and inimitable Sofa Agumaa! She is equally beautiful in both melodrama and comedy," said the Abkhaz television journalist Lana Abshilava.
Theater and film actress, People's Artist of Abkhazia, Sofa Agumaa, began her career after graduating from the Tbilisi Theater School in 1961, joining the troupe of the Samson Chanba Abkhaz Drama Theater. Over the years of creative work, the artist has created more than 70 images. She is still loved by Abkhaz viewers. Since August 2014, Agumaa has been the artistic director of the Abkhaz State Youth Theater. December 20 is the birthday of the artist, this year she celebrates the 80th anniversary.