Egypt
14/06/2019
12:10
33527
In her last interview, the active representative of the Abkhaz-Abaza Diaspora in Egypt, Mona Omar Abaza, spoke about charity in favor of needy members of the Egyptian Abaza family. She passed away on June 13th from a heart attack.
The WAC Infoportal was preparing an interview with Mona Omar Abaz to be published in June: the publication "was late" literally for a few days, not finding the main character alive. She died on June 13th of a heart attack, she was 72 years old. The editors express deep sympathy to the family and friends of this amazing woman, who for many years actively served her compatriots. We publish the interview unchanged, hoping that the Mona Omar case, which she herself had accepted from her grandmother, will continue to live.
Said Bargandzhia
One of the activists of the Abkhaz-Abaza Diaspora in Egypt, Mona Omar Abaza, has been engaged in charity for many years among her ethnic relatives.  The woman considers assistance to needy members of the Abaza family as a continuation of the work of her grandmother Aziza, which she started back in the 1960s.  After the death of a relative in 1983, Mona Omar Abaza took from her the "baton of good deeds."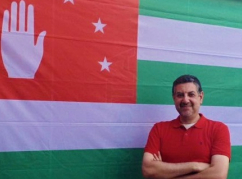 Mohammed Abaza on the Diaspora in Egypt: we need more communication with Abkhazia
It is to be recalled that the Abkhaz-Abaza Diaspora of Egypt is a single Abaza genus, which today, according to some sources, consists of about 1,000 people.  It is customary to call it "the Abaza family": all members of the Diaspora bear the same name Abaza (some of the members of the "family" have kept their historical names, and some have lost them - ed.).  Among the ethnic Abkhaz and Abaza of Egypt, as in any other people, there are people in need of help - including financial.  Mona Omar Abaza is engaged in organization of such assistance and raising funds for it.  She told the WAC web information portal, as an example, about a recent appeal.
"We had a woman this week.  She is about 30 years old, she is a little sick.  Her father died in an accident three years ago.  She lived alone.  A month ago, she fell in love with a very nice person, but she had no money.  According to the tradition in Egypt, a man must find and buy a house, provide it with all electrical appliances, and a woman has to buy furniture and other things for the house.  We gathered everyone in the Abaza family who could support her, got £ 26,000 (Egyptian pound, at the time of publication equal to about 3.9 Russian ruble and $ 0.06 - ed.) and she got everything she wanted," shared  Mona Omar Abaza. 
In her experience, there are many similar stories.  The organizer of charity noted that sometimes people have unforeseen situations when funds are urgently needed, and no state benefits can cover the required amount.  For example, someone needs an urgent operation.
Mona Omar Abaza also tries to organize financial assistance to young applicants.
"We had a young man, very clever, who wanted to enter an American university, but he could not afford it.  Admission to any Egyptian university does not require large funds, but he wanted to study in the United States, and this, of course, is several times more expensive.  We helped him, he has already graduated and now he is working.  He even wanted to return that money, and I offered, in return, to help others in need," said Abaza.
According to her, all representatives of the Abaza family, as far as possible, allocate personal funds for certain fees.  So, the case started more than 50 years ago by her grandmother Aziza proves its worth and necessity.  By the way, today Mona Omar Abaza herself is already a grandmother, and her grown-up grandson also invests money in a common fund of help.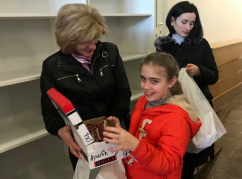 Over 1000 children received new winter clothes: WAC summed up the "Soul Warmth" action
"My grandson started working several months ago, he graduated from university, worked for several years at a university in the USA, lived there.  Now he is here [in Egypt] and works as an engineer with his father.  I told him: now you are getting a salary, you have to give something [to the ones in need from your salary].  And he has been paying [to the general fund] for four or five months now.  This is how it happens," explained Mona Omar Abaza.
She especially has a lot to do before the holidays: according to Mona Omar Abaza, this is the time "when I want to help as much as possible".
"We send food boxes to large families, to children's homes.  We send rice, butter, macaroni, sugar, tea.  On holidays we give clothes, shoes to children, not new clothes, but in good condition," said Abaza.
In April of this year, the delegation of the World Abaza Congress was on a working visit to Egypt. During its stay there it was possible to hold a number of important meetings, as well as agree on cooperation and establish friendly relations with many representatives of the Abaza genus in Egypt.