News
26/04/2019
14:50
30975
In the framework of the working visit of the delegation of the WAC in Egypt, consultations were held with the leadership of the Foundation for the Development of Culture and Art of Egypt.
Said Bargandzhia
Representatives of the World Abaza Congress in the framework of their working visit to Egypt met with the head of the Egyptian Foundation for the Development of Culture and Art Dr. Yahya Esmat Ali and agreed on further cooperation. The meeting was held in the city of Giza on Thursday April 25th.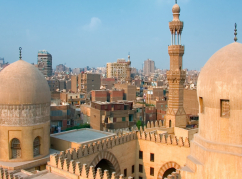 WAC delegation is in Egypt on a working visit
The Executive Secretary of the WAC Inar Gitsba noted that the mutual cooperation of the Congress with the Foundation will develop in several directions, but the main accent will be made on culture.
"We discussed in detail the possibilities of cultural interaction. We agreed to implement joint efforts to organize the performances of our (Abkhaz) art and dance groups at one of the international festivals of Egypt. We discussed the possibility of a visit of the creative team from Egypt to us in Abkhazia," said Inar Gitsba.
Yahya Esmat Ali, who founded the Foundation, also created a ballet school in Egypt. He has the Order "For Contribution to Friendship," for his contribution to the development of Russian-Egyptian cultural relations.
"Yahya Esmat Ali is a very famous person in Egypt and beyond. Therefore, it is especially pleasant that he, as he assured us, will in every possible way promote the popularization of Abkhaz culture in Egypt," said Inar Gitsba.
Earlier, on April 22, the first extended meeting was held in Giza with representatives of the Abaza genus - the Egyptian Abkhaz-Abaza diaspora.
Within the framework of the current visit to Egypt, the WAC plans to hold other meetings with active representatives of the diaspora, cultural figures, specialists on the history of the Abaza genus to develop the initiatives initiated, as well as exchange views on the forms of further cooperation.