Entrepreneurs from Abkhazia Astamur Kortava and Gunda Hewitt-Kortava, having moved to the UK, opened a family business there and produce Abkhaz adjika, which the English consumer has already appreciated.
Said Bargandzhia
Entrepreneurs from Abkhazia, spouses Astamur Kortava and Gunda Hewitt-Kortava, having moved to England about four years ago, organized the production of traditional Abkhaz adjika there. Their family business is almost three years old.  During this time, Abkhaz adjika managed to win the hearts of many British. 
According to Astamur Kortava, after moving to the UK, he and his wife thought for a long time about what it takes to start producing "their own product."
"First of all - adjika and our sauces.  Making adjika is technologically simpler and does not require large expenses, so we decided to start with it," says Kortava.
Starting a business in the UK is quite simple, the entrepreneur explains.  To do this, it is enough to notify the authorized bodies online - "and you can do your own thing."
Spouses of Kortava cook adjika according to the traditional Abkhaz recipe, without the addition of flavor enhancers or seasonings.  Before starting to produce a product for sale, acquaintances, neighbors and friends gave it a try.  Entrepreneurs also began to exhibit Abkhaz adjika at various fairs that are popular in England.
"After we checked the reaction of customers to our product, we realized that adjika in England has good prospects. This inspired us to take more decisive actions," concludes Astamur Kortava.
Now the couple sells adjika at retail, but one of the conditions for successful sales remains the offer to customers to definitely try an unusual product. 
According to Kortava, adjika evokes a very different reaction "in the first seconds of its testing," but then people make the same conclusion.
"The first words that customers often pronounce are "Amazing!", "Magnificent!", "Fntastic!" Many can peer at a product for several minutes, not daring to try it, but when we insist, they try - and change in their faces. Many obviously do not expect to feel such a richness of taste for such a visually unusual product.  Then they thank us," Kortava shares.
He notes that it is too early to talk about wide popularity: Abkhaz adjika is liked by those who have tried it at least once, and this is still a rather small audience.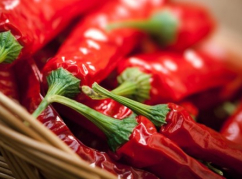 Abkhaz adjika presented at the popular pepper festival in Italy
"We sell adjika so far in a small number of stores, and about once a month we participate in fairs and exhibitions. They took part in more than 60 such events in various cities of England.  I would like to start working with distributors and chain stores, but [so far] we have not been active in this direction, since we had to solve many other problems related to the organization of production," the Abkhaz entrepreneur explains.
The Department for Small Business Support at the Local Government of Doncaster helped find a place for the production and sale of adjika to the family.
"Having learned from us that we are looking for a room for small production, they offered us several options, one of which was just perfect for our purposes.  This premises is interesting because its front part is a store.  There we provided the opportunity to exhibit our products to small local manufacturers whom we met at exhibitions and fairs.  Entering the store, customers see that here [directly] they are still producing something on the spot, and, of course, they are interested. So we introduce them to our products and give them a taste of adjika. For us it is an opportunity to see our customers "in person" and observe their reaction to the product, listen to their reviews, recommend them to use adjika in various variations.  All in all, we have a good customer feedback," summarizes Kortava.
Among regular customers, he adds, there are even professional chefs and English celebrities.
"Saliha Mahmood, the winner of the popular television show in 2016, bought adjika from us at a fair in London and then wrote about it on her Instagram.  Information about us and the product was also posted on Instagram by Olya Herkule, a participant in cooking programs on TV and the author of the Caucasus cookbook, one of the best sellers in Britain in 2017," says the entrepreneur.
In addition to consumer success and high ratings from private experts, Abkhaz adjika and its manufacturers have already gained wider recognition.  Recently, a product from the Kortava family received a prestigious Great Taste Award in the UK.
"Our label now has their badge, which contributes to faster promotion," says the adjika manufacturer.
The family business of the Kortava spouses also entered the top three finalists of the Sheffield business competition in 2017. This competition is highly respected in England.