Egypt
30/05/2019
15:00
34561
The representative of the Abkhaz-Abaza Diaspora in Egypt, Mohammed Abaza, described how he sees the communication of the Egyptian Abaza family with Abkhazia, and what measures can help its rapprochement with its historic homeland.
Said Bargandzhia
Ethnic Abkhaz and Abaza from Egypt know little about Abkhazia, and to change the situation, it is necessary to strengthen ties with the historic homeland, said Muhammad Abaza, an active representative of the Egyptian Abkhaz-Abaza Diaspora, or the Abaza family (its representatives belong to the same Abaza genus and officially bear the surname Abaza, but not all families remember their historical surnames - ed.).  He told this to the WAC web information portal after the April visit of the Congress delegation to Egypt.
Why the Abaza family knows little about Abkhazia
Mohammed Abaza notes with regret that the Egyptian Abaza and Abkhaz, for the most part, do not seek to visit their historic homeland: few of those who visited Abkhazia repeated their visit.  He believes that a close connection of the Egyptian representatives of the Diaspora with Abkhazia is hampered by ignorance of their history.
"Although our Diaspora in Egypt is one big, influential, united family, the lack of knowledge of our own history and the forgetting of Abkhazia, combined with the significant influence of domestic politics, complicates the process of materializing [the ideas of repatriation and close contacts with the motherland]," he explained.
Abaza sees another reason for the weak connection with his historic homeland in the absence of organized and systematic work in this direction.  According to him, some representatives of the Diaspora were once endowed with official powers of the representatives of Abkhazia in Egypt, but "did not do anything useful," since "either they didn't have [strong] will and didn't know how to fulfill this role, or simply used these titles for personal purposes."  Today, Abaza says, there is no special organization in Egypt that would unite all representatives of the Abkhaz-Abaza Diaspora.
On the importance of small steps
He considers, at the same time, that even the smallest steps are important for rapprochement with the homeland - for example, from the side of business.
"I called on everyone I met in the family (Abaza family - ed.) to visit their historic country and was able to convince some to start a business or small projects - as small steps towards moving there in the long term.  I also [tried] to link the active Abkhaz with their counterparts in Egypt," said Muhammed Abaza.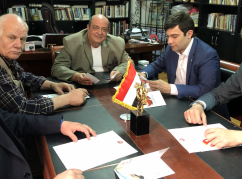 WAC and the Foundation for the Development of Culture and Art of Egypt discussed cooperation
He added that another important area of ​​his work and assistance to his homeland today is in organizing visits of Abkhaz delegations to Egypt.  The representative of the Diaspora also promised that he would be happy to assist the WAC in the activities of the Congress.
"If I can help, I would do it with pleasure," he confirmed and called other active members of the Diaspora who are already helping Abkhazia and can be useful in the future.
"For example, Moaz Abaza, who voluntarily does a lot of work in social networks to promote the Republic of Abkhazia from a tourist, cultural and historical point of view, Gehad Abaza, who is trying to cover the scientific and social part academically," Mohammed Abaza listed. 
"Heaven" on earth
Mohammed himself is engaged in real estate in Egypt, and already three times since 2014,  visited Abkhazia, tried to come to his historic homeland earlier, back in the 1990s, but then "had no idea how to do it".  He was and remains impressed with Abkhazia.
"First, I come from a desert country, and was amazed by the beauty of nature.  It looks like heaven on earth.  Secondly, I represented my ancestors on this land.  Where exactly did they live?  Why and how did they leave this paradise?  How did they end up in Egypt?  What cultural shock did they experience when they moved from such a peaceful and relatively remote place to the center of the world with all the political and violent [phenomena] that occurred there?" shared Muhammed Abaza.
Young people could live in families by exchange programs
He named several possible projects for rapprochement, in particular, Abkhaz-Abaza youth of Abkhazia and Egypt.  One of them is exchange and living in families: this way young people could learn the everyday life of families from the inside, in general, life in another country.
"Egyptian young people could live in Abkhaz families for a month or so, and in return young people from Abkhazia would come to us and also stay in our families," he explained.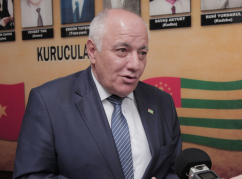 Vadim Kharazia: the Abkhaz culture can be saved only with the help of the Diaspora
The youth, according to Mohammed Abaza, always has great potential.  If the younger generation "ignite", then it "reacts to small things with enthusiasm" in order to implement significant projects.  So, Abaza's daughter lives in the USA today and is working on a doctoral thesis that she dedicated to Abkhazia.  Abaza cites the example of his other closest relatives.
"My brother bought a house in Abkhazia, where he will come at least once a year and after retirement he will come to live for good.  The nephew plans to move to Abkhazia and start his own small engineering business after he graduates from the magistracy in Spain," he said, and concluded: "We just need more communication."
 In April of this year, the delegation of the World Abaza Congress was on a working visit to Egypt.  During its stay there it was possible to hold a number of important meetings, as well as agree on cooperation and establish friendly relations with many representatives of the Abaza genus in Egypt.