Professional wrestlers and coaches told the WAC web information portal on how freestyle wrestling in Abkhazia is developing today, the problems and prospects of this sport, as well as their personal sports experience.
Said Bargandzhia
wrestling in Abkhazia has always been one of the favorite sports, almost the same as football, karate or boxing. Today, wrestling halls are still overcrowded: wrestlers begin to train from childhood, parents willingly transfer their children into the hands of experienced coaches, who, fortunately, are many in the Republic. The Abkhaz freestyle wrestling has both specific difficulties and undoubted prospects. The main one is based on the tremendous desire of professionals and their wards to grow, develop and learn to have stronger bodies and spirits.
"Dad, I want to be like Denis Tsargush"
2012, the London Olympics. All Abkhazia, with a sinking heart, is rooting for its compatriot - the young wrestler from Gudauta Denis Tsargush. Semifinal. Emotions going wild. In the end, Denis is inferior to his opponent, but becomes the bronze medalist of the 2012 Olympic Games.
Since then, the name of a young wrestler from Gudauta has become a household one. Boys from all parts of Abkhazia with the words "Dad, I want to be like Denis Tsargush!" and even greater zeal rushed to the gyms in order to do freestyle wrestling, which received a new breath in the heart of each Abkhaz.
Not "accidential", but a purpose and destination
Here is a story about one of such boys, who began wrestling a little before these events. Akhra Tsvizhba was born in Sukhum. The boy always had strong body. Strength, dexterity, "sportiness", so to speak, were in his blood. He was drawn to sports from the earliest years: he was engaged in acrobatics and karate, but his relatives and friends always told him that he should become a wrestler. Therefore, it happened.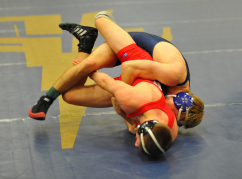 The executive director of the free-style wrestling club "Abaza" about students: we are preparing future champions
Today, Akhra is 24 years old, and he already has a great wrestling and coaching experience. His coaching is another story. A wrestler trained at the Olympic Reserve in Moscow, however, as is often the case — an evil incident, injury — and his own career was cut short. However, the "case" turned out to be not accidental and not at all "evil": thus, a new way opened for the athlete for the benefit of many people. Akhra Tsvizhba remained faithful to his beloved business and began to train children, and now he is a coach for five years already.
"In order to become an outstanding athlete, talent only is not enough, willpower is needed, it is necessary to work hard and be result-oriented," Tsvizhba shares the formula for wrestling success.
Abkhazia has a good level of wrestling and many talents
The coach admits that he has already lost count of how many children he has ever trained. Now there are 25 children in his group, the youngest are five years old and the older ones are 15 each.
"We train every day, except for weekends. Our country has a very good level of wrestling, many talents. The active assistance is provided by the Chairman of the Supreme Council of the World Abaza Congress Mussa Ekzekov. All trainers of the Republic receive part of their salary due to his sponsorship, he also helps us with special equipment," says Akhra Tsvizhba.
Arguing about the prospects for wrestling in Abkhazia, Tsvizhba emphasizes that there are many talented, hardworking and persistent athletes in the Republic, as well as indifferent people among the older generation of coaches who provide active help and support.
"We have several halls in Sukhum, many children. This makes me happy. There are all necessary conditions for wrestling. However, any athlete needs to go to the training camp, to competitions, only in this case we can expect high results from them. However, this is often fraught with financial difficulties," notes Tsvizhba.
Gudauta – "forge of fighters"
Adam Tsveiba, a trainer with 8 years of experience from Gudauta, supports his colleague in the fact that it is necessary to take athletes to the training camps and competitions so that they grow professionally.
"Only training in the gym and performances within Abkhazia will not allow us to expect high results from our athletes," he says.
Adam himself began to engage in freestyle wrestling at the age of seven and literally fell in love with it, although the conditions for training were not very good. Today's winner of many international tournaments, he recalls with a smile his first serious competition: "I was 15. It was the championship of Russia, which was held in Perm. Then we fought for the first time at such a high level. I did not become the prize-winner of these competitions, but I received tremendous experience."
The first major victory in his wrestling career was the "Bear Cub" tournament (International Youth Freestyle Wrestling Tournament, named after the three-time Olympic champion Alexander Medved – ed.), where in 2009 he won first place.
The trainer calls his district, Gudauta, "the forge of wrestlers": during the year, eight different competitions take place in the Gudauta district. Tsveiba notes that today the Sport Committee of the Gudauta region, the Federation of freestyle wrestling of Abkhazia, the Ministry of Education of the Republic and the Chairman of the Supreme Council of the WAC provide assistance in the development of Abkhaz wrestling.
Winners in sports and in life
Adam has 20 children in the group, from five to thirteen years old. Training takes place almost every day.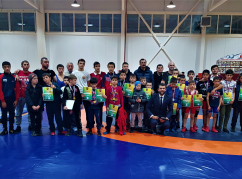 Freestyle wrestling competitions with the support of Ekzekov were held in Abkhazia and KChR
"In my group, I will not say that there are many of them, but there are very talented children who can achieve high results in the future," Tsveiba says.
Even if a boy does not become an Olympic champion or a famous athlete, then, having been involved in sports since childhood, he will not "get spoiled", will not get lost on the street, the trainer believes.
"Sport not only prepares children physically, but also forms their thinking," he said.
The history of freestyle wrestling in Abkhazia counts many years. This sport perked up immediately after the Patriotic War of the people of Abkhazia: wrestling halls in the Republic began to open again, children started to train again, despite bad conditions and lack of material support. After all, Abkhaz freestyle wrestling is always the education of fortitude and the acquisition of the spirit to win in sports and in life.