The film of the Abkhaz director, honorary member of the WAC Timur Tania "Thank you grandfather for the victory" after the premiere in Russia was released in wide distribution.
Said Bargandzhia
The premiere of the film of the Abkhaz director, member of the World Abaza Congress Timur Tania "Thank you grandfather for the victory" was held in Moscow on Tuesday, April 30.  The director himself defines the picture, above all, as a family movie.  On the day of the premiere, emotions were overwhelming Timur Tania.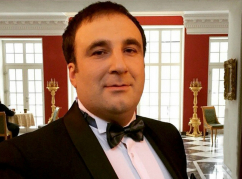 Champion of the KVN Major League, actor and director Timur Tania became a member of the WAC
"This is my first full-length film, and I am happy that it was released in wide distribution.  I received the first reviews after the pre-preview.  People came up to me and said that they would come and watch it again and will surely bring their loved ones," the director said.
He said that the idea of the film came to him when he was a child, and the main "ideological inspirer" was his grandfather.
 "As a child, my grandfather always told me stories, and even then I decided that I would shoot a movie according to his stories.  And now, after so many years, I managed to realize the childhood dream.  Partly because of the desire to film these stories, I decided to become a director," explained Timur Tania.
An episodic role in the film was played by Timur's KVN team mate from the "Narts from Abkhazia" Timur Arshba, known in Abkhazia by the nickname Horror.  He also attended the premiere of the film.
"Everything went perfectly.  I liked the movie.  This is a truly family comedy, which in an easy and humorous form tells about the main values in life - family, homeland.  I advise everyone to go to the cinema!  And, of course, we are very proud of Timur, we wish him continued success," said Arshba.
According to the plot of the film, an ordinary Moscow boy comes with his father to visit the Abkhaz village to see his grandfather.  There he is met by not very friendly local guys and a girl with whom he immediately falls in love.  The grandfather constantly tells him stories about his glorious military past, which opens up a completely new world for the boy, teaches him the main values of life and brings him up like a real man.  The main roles of the film were made by Russian actors Yegor Beroev and Ksenia Alferova, and the famous Abkhaz actor Kiasou Khagba played the role of grandfather.