WAC, led by the Chairman of the Supreme Council, continues to assist Abkhazia in the fight against the spread of the COVID-19.
The medical equipment and personal protective equipment needed in the fight against coronavirus were transferred to Abkhazia by the Chairman of the Supreme Council of the WAC Mussa Ekzekov.
The head of the WAC purchased medical equipment according to the list provided by the operational headquarters for protecting the population from coronavirus under the Ministry of Health of Abkhazia.
"The situation in the world is not simple. Unfortunately, the virus did not pass Abkhazia by either, but thanks to the joint concrete actions of citizens, public organizations and public authorities, the situation can be controlled. In this situation, there can be no one indifferent, by joint efforts we will overcome this test," Mussa Ekzekov expressed confidence.
He noted that from the first days of the spread of coronavirus, the WAC team has been providing assistance to the most socially vulnerable families, including the families of compatriots who have returned to their homeland.
According to the head of the WAC, the most "heavy burden" today rests with doctors.
"To save the lives of patients, they work in a 24/7 mode. Given that there may be significantly more patients, more and more consumables, drugs and medical equipment are required," he explained.
Since the introduction of a state of emergency in Abkhazia in the situation with the coronavirus, the WAC has completely switched to work to protect the health of the country's residents. The Congress team began active cooperation with the Interdepartmental operational headquarters for the protection of the population of Abkhazia from the Coronavirus, the "Kiaraz" Charitable Organization and the "Adgylara" Public Information Center.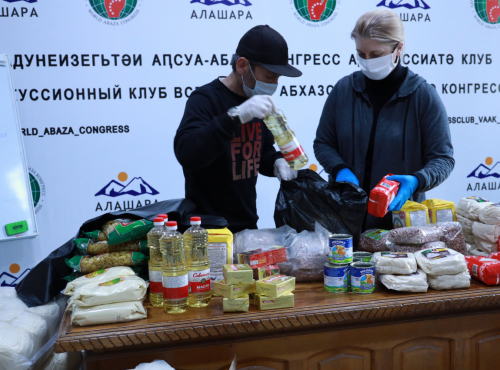 WAC provided humanitarian assistance to families of repatriates of Abkhazia
The WAC is in constant contact with the Moscow Abkhaz Diaspora, which also assists Abkhazia in acquiring the necessary medical equipment, medicines and food.
Earlier, the WAC helped families of repatriates in need of food in the context of the coronavirus pandemic. This is a total of 126 people, a group of whom appealed to the Congress for support, which was provided.
During the pandemic, the WAC web information portal changed its broadcasting format to news and regularly publishes the latest reports of the operational headquarters for protecting the population of Abkhazia against coronavirus infection for compatriots around the world.
To date, the total number of patients with COVID-19 in Abkhazia during the pandemic is 28 people, 23 have recovered, one patient has died. All patients are in the Gudauta hospital under the supervision of doctors.
On May 30, the President of the Republic of Abkhazia signed an order according to which all previously adopted restrictive measures were extended until June 15.