People's Artist of the Soviet Union Sharakh Pachaliya would have turned 105 on May 20. For this date, the WAC web info portal prepared an essay about his life and work.
Said Bargandzhia
The history of the Abkhaz people is, first of all, the history of the life of its best representatives, many of whom are no longer alive, but their legacy to this day is the national wealth.  In November 2000, the distinguished Abkhaz actor Sharakh Pachaliya passed away - he was 86 years old. Together with him, an entire era of the very Abkhaz actor's flavor was gone.  Even today, the already well-known actors with long-established reputation somehow particularly speak of the pleiad of the first actors of the state drama theater, which included Pachaliya.  Today he would have turned 105. 
Rising star trajectory
He was born on May 20, 1914 in the village of Aatsy, Gudauta District.  There, in the village, all his childhood passed.  It was filled with school theater performances, football in the evenings with friends, carefree boyish games.  Then it seemed inconceivable that this little boy from Aatsy would conquer half of the world, becoming a people's artist of the Soviet Union.
 Sharakh began his acting career in a theater studio in Sukhum.  There, one of his teachers was the famous figure of the Abkhaz national culture Kondrat Dzidzaria.  Then Pachaliya studied and developed his mastery in a drama studio at the Tbilisi Shota Rustaveli Theater.  In general, to become an actor was written in his fate.  Each role of Sharakh's subsequent acting career will be testimony to his incredible talent.  And he will have many bright roles - both in the theater and in the movies.
The very first acquaintance of Pachaliya with the Abkhaz audience was held in 1931.  Then he, a young student, played a major role in the production of Samson Chanba "Kiaraz".
"I was shy and even afraid of him"
About the actor today with warmth, joy and undisguised respect remember his "colleagues", now mature and deserved, and once - young, starting their theatrical way and met on it, sooner or later, the famous Sharakh.
The national artist of Abkhazia, the artistic director of the Youth Theater, Sofa Agumaa, first discovered the work of Pachaliya, and only then, many years later, Sharakh himself.
She first saw his play as a girl.  The theater troupe, which included Sharakh, traveled around the villages of Abkhazia on tours, and Sofa Agumaa lived in the village of Duripsh, Gudauta district. Having learned that the actors from the theater came to them, she and her friends, as Agumaa recalls, "without hesitation went to the show."
 "Of course, I knew about him - who then did not know Sharakh!  I was captivated by his play," the actress smiles.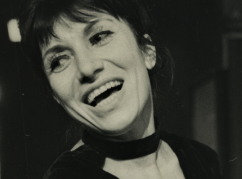 "Stage Children" and New Roles: About the Life and Work of Actress Sofa Agumaa
A few years later, Agumaa entered the theatrical university, where her second meeting with Sharakh took place.  But a closer acquaintance happened only years later, when Sofa graduated from the university and got a job at the state theater, where Sharakh played.
"Together with Sharakh Pachaliya, I played in many performances.  He was an incredible partner. He was older, I was too shy and even afraid of him.  He was very strict.  But on stage he knew how to support.  Playing with him was a pleasure.  Most of all, I remember the play "King Lear" [by William Shakespeare], I played his daughter," says Sofa Agumaa.
Pachaliya was the favorite of the Abkhaz public and he won the loudest ovations.  One of the audience's most favorite roles that, also in the work of Shakespeare, is the role of Iago, one of the central characters in the "Othello" play.
"Sharakh played in such a way that each of his roles reached the very heart.  Audience understood and believed him," concludes Sofa Agumaa.
"People from other republics of the USSR came to watch the play"
After graduating from the theatrical institute from Tbilisi, another well-known Abkhaz actor Shalva Gitsba came to work at the State Abkhaz Drama Theater.
"We were very warmly welcomed, - he recalls.  - Even then, one of the theater's luminaries was Sharakh Abzagovich.  From these days I was in contact with him all the time.  He was the leading master of our theater.  He is a great actor, the only Abkhaz actor who has received such a high title as People's Artist of the USSR."
Gitsba and Pachaliya played together in the same play "King Lear" that Agumaa mentioned.  According to Gitsba, this was one of the best performances of the theater.
"Sharakh was especially distinguished in this performance.  He really played brilliantly.  People from other republics of the USSR came to see it, the most famous theater critics of the Soviet Union wrote about it, appreciating Sharakh Pachaliya's play," explains Shalva Gitsba.
In total during his career, Pachaliya played more than 150 diverse roles.  In addition to performances, he himself staged performances in 1939, wrote several plays for the theater: "Big Wedding", "Gunda".
In 1940 he received the title of People's Artist of the Abkhaz ASSR.  After 15 years, in 1955, he was awarded the title of People's Artist of Georgia.  In 1966, Pachaliya returned to the Abkhaz Drama Theater named after Chanba, and in 1976 became its director, worked until 1988.
Grandfather, father, idol
A special person in the life of Sharakh Pachaliya was his only granddaughter Maritsa Kuchava - and he was "instead of her father".  Today Maritsa lives and works in Sukhum.  When her beloved grandfather died, she was 16 years old.
"Almost 20 years have passed, but still the pain of loss cannot be replenished.  He replaced my father," says a young woman, and tears come to her eyes.  Despite the fact that her grandfather was very strict with her, he loved her very much, she explains.
According to the granddaughter, Pachaliya Sharakh was very strict and responsible in everything and to everyone.
"It was unacceptable for him to wait.  She and her grandmother went to work together.  If he started the car, and the grandmother did not go out, he could wait no more than a few minutes and leave. This is the kind of person he was," Maritsa smiles.
She says that the grandfather was very decent and loved his theater very much, with which he traveled to many countries.  And some episodes from life indeed testify to him not only as an extraordinary actor, but also as an extraordinary person.
"Mom told me that when he was given the title of People's Artist of the Soviet Union, Boris Adleyba invited him (Soviet and Abkhaz state and party leader, first secretary of the Abkhaz regional committee of the Georgian Communist Party in 1978-1989 - ed.) and said,  that he was awarded an apartment in the center of Sukhum for services.  The grandfather refused, explaining that he has a house, he has a car, and many of his actors do not have housing," the granddaughter said.
According to Maritsa, it is a pleasure to be a granddaughter of a famous artist.
"I went to his performances.  I adored him.  He really was my idol.  But this is not the only reason why being an artist's granddaughter is so wonderful.  We always had a lot of guests at home.  Imagine - a lot of actors at the same table.  I still remember those evenings," says Kuchava.
Theatrical circle and home sketches
After the end of the Patriotic War of the people of Abkhazia in 1992-1993, Sharakh Pachaliya opened a theater group in Tkuarchal.
"Of course, they were non-professional actors, but they all played with soul.  For the post-war Tkuarchal it was a grand event.  People went [to the performances].  Old residents of Tkuarchal still remember them.  This theater is still working today," says Maritsa.
She did not go in the footsteps of her grandfather, but admits that in childhood "acting skills manifested".  So said her grandfather.
"It was almost immediately after the war (PWPA - ed.).  When everyone was coming home, grandfather's friends were gathering. I payed little sketches.  I always wanted to make my grandfather laugh," she says, and again recalls that, despite his good temper, Sharakh was "strict" - for example, to her mother.
"Mom remembers that grandfather was often absent.  Was on tour.  But he was always strict, controlled [her] and was interested in [her life].  But with me he has become a bit softer, quite a bit softer," Maritsa smiles.
A strict, talented, responsible, decent, sympathetic, able-bodied is only that small part of the epithets addressed to Sharakh Pachaliya, which can add up the image of this outstanding, deep, bright person.  Sharakh Pachaliya - an example of talent and modesty.  He left to the future generations the distinctive world of Abkhaz theater and cinema.