In 2019, the People's Artist of Abkhazia, the acknowledged "Queen of the Abkhaz dance" Maya Gerzmava, celebrates her anniversary.
Arifa Kapba
Amazingly beautiful piedmont village of Duripsh and a family in which they could not imagine life without music even for a day – these are the conditions when on May 22, 1949 a girl Maya was born, the future folk artist and "Queen of Abkhaz dance" Maya Gerzmava. She was one of seven children. Their father, Dzhguat Gerzmava, sang in the choir of the long-livers "Nartaa", and their mother, Vera Ankvab, knew how to dance - beautifully and gracefully.
"Let's go to dance"
Maya Dzhguatovna recalls that children in the family grew up in this atmosphere of dance.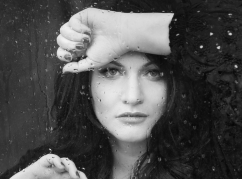 Khibla Gerzmava "Golden soprano" of Abkhazia and Russia
"Since childhood, we saw our family singing, dancing, having fun, we always had a house full of guests who also loved to sing and dance, so the love of music is from my musical family," says the artist and tells how one of her brothers, Levarsa Gerzmava (father of the national artist of Abkhazia and Russia, Khibla Gerzmava - ed.) "loved dancing Abkhaz dances" and often, when he went to weddings, took his sister with him saying "let's go to dance".
After graduating from school in her native village, Maya began to think about getting into the State Song and Dance Ensemble of Abkhazia. "My sister and son-in-law sang in the ensemble, and I often went to their concerts," Gerzmava recalls. "I really liked to see how the girls danced, mostly all of them were Georgians, but among them was one Abkhaz, a unique dancer Susanna Dzhenia. I always looked at her and thought how beautifully she did all this, and dreamed of getting there, into this ensemble."
Moreover, she showed particular perseverance in the realization of her dreams. As a girl, she moved to live with her sister in Sukhum, got a job at a choreographic school, and later achieved an audience in the ensemble. It was a kind of show: artists and choreographers had to look at the girl and say whether it was possible to take her to the group.
"They looked at me, said: well, she has the stature and the look, she feels the rhythm and has a good ear. We take her, they said. You just can't imagine how I felt then, it was the happiest day of my life! That day I did not walk, but flew," the dancer shares.
Therefore, in incomplete sixteen years, Maya Gerzmava fell into the illustrious group of the State Song and Dance Ensemble of Abkhazia. However, before becoming a full-fledged member of the ensemble, getting the status of a soloist in it, let alone earning the acknowledgement of colleagues, was still very far away.
"Take her away; she will never become a dancer"
The path to the title of the "Queen of the Abkhaz dance" was by no means paved with roses or laid out on the red carpet. There were many obstacles.
In the State Assembly of those times, when Maya Gerzmava got into it, mostly Georgians worked. According to the memoirs of the artist, they were not happy at all when a young beautiful Abkhaz woman came.
There was no question of getting help and support from any of them, Gerzmava recalls. Moreover, often behind her back she heard them saying "take her away; she will never become a dancer." Maya, although she tried to keep it together, was very worried, was coming home and crying. However, the thought to leave and quit dancing never. visited her. Moreover, such resistance from her Georgian colleagues only "provoked her", and once she firmly decided: "I will, I must be a dancer, I can do everything."
She transformed her huge dream of dancing into a task and developed a very clear plan of action. Realizing that first of all it is necessary to master the skill, Gerzmava began to work with the best teachers. The choreographer of the ensemble Fazylbey Kurua worked with her. In parallel, she went to the teachers of the choreographic department of the Cultural Institute. However, her main dance teacher, according to Maya Dzhguatovna herself, was the Georgian choreographer Givi Vashakidze. "He was very strict," Gerzmava recalls. "I asked him to teach me, he refused for a long time, said: you can't stand me, it's better to leave this venture. However, I convinced him to take me as a student."
"Mute" dancer and his "speaking" body
The peculiarity of Vashakidze's teaching style was that he never showed how to perform certain elements of the dance, but demanded that the students listened to the music carefully and all movements came from their depths of consciousness. "He often repeated: "You must feel all the movements internally. I don't need you to learn the movement of the hands by heart, the hands should "talk". Studying the dances of this or that nation, he made me read books about them in order to understand what kind of people they were, what kind of character they had," Maya Gerzmava talks about her teacher.
Largely thanks to precisely these lessons, she realized: the dancer on the stage is "mute", but a good dancer should have all parts of his body working, his body should "talk to the audience".
"Without words, only with the help of plastic you need to convey to the viewer the image of your character on the stage. This is very important and very difficult. You can talk in the theater, but when you dance there are no words. And if you catch on yourself an interested look of the viewer, then you have achieved something," Gerzmava notes.
A good teacher was not the only "trump card" of a novice dancer, her character became her main ally. Day and night, she honed her skills. both at home and in the gym, worked to exhaustion, practicing movements and grace in dance. All this, of course, gave its result: very soon, Maya showed her colleagues in the ensemble that she could dance.
Later, when the personnel policy was changed in the State Ensemble and more and more Abkhaz women came, Maya became the main soloist of the ensemble. It so happened that at the next festival, where the ensemble performed, and Gerzmava performed solo, there were many former ensemble dancers in the hall. And after the performance, one of them, once also a soloist, came up and unexpectedly admitted: "You know, Maya, if they told me that the mountains and the sea suddenly changed places, I would believe, but if they said that you had plastic hands, I would never have believed. However, today I saw it with my own eyes, well done!"
Partner's shoulder
Maya Gerzmava worked for 37 years in the State Song and Dance Ensemble of Abkhazia. She recalls her dance partners with great love. Remembering them, she again returns to the beginning of her career and tells how once she, a very young and beginning dancer, was entrusted with performing a solo. This was a kind of exam, and, according to Maya Dzhguatovna herself, she was expected to fail, in which case she would have to leave the group. Then the brother of her teacher came to the rescue, who also danced in the ensemble - Aivengo Vashakidze.
"He came up to me and said: "Do not be afraid, look at me and go where I am going, and make those movements that you know. You and I will justify this solo piece. He helped me a lot then," the artist recalls with gratitude.
So for the first time, Maya understood what the shoulder of an experienced partner means. In the future, she shone on stage with the best dancers such as Vladimir Kvarchia, Kandid and Arvelod Tarba, Ruslan Chamagua, Rauf Dasania, Vianor Tarba, Akaki Malia, Vladimir Gubliya and many others.
And once she herself acted as a mentor for one dancer.
This is how it was. Valery Taniya came to the ensemble, he was immediately enrolled in the category of so-called "stunts", he danced masterly, but did not know how to dance with his partner at all. "He was a brilliant dancer, but a solo one. He told me that he had never worked with a partner. And I taught him for a year. We practiced dancing and our partnership. As a result, together we danced both the "Nartaa" and the "Ossetian" dances, and he repeatedly told everyone: Maya taught me what it means to be a partner," Gerzmava recalls.
Among all the dances that Maya Gerzmava danced on stage, she especially singles out the "Nartaa Dance", in which she played the role of the mother of 100 Nart—brothers Sataney-Guasha. "According to the legend, Sataney-Guasha illuminated the mountains and the sea, and I danced this princess, it was something sacred to me, I still remember it and feel goosebumps," says the artist.
Tour stories
Together with the ensemble Maya Gerzmava went on tour in various countries: France, Czechoslovakia, Germany, Argentina, and Africa.
She especially remembered the trip to Poland.  They were greeted there with a banner with the inscription "Welcome, Georgian Song and Dance Ensemble of Abkhazia!"
"When the head of our delegation, the Minister of Culture Aleksey Khutovich Argun saw this, he was very indignant, held a press conference and explained that it was not the "Georgian" group that came to them, but the Abkhaz, told about our Republic, about culture, literature.  And when we arrived there the next year, the local press already wrote about us as artists from Abkhazia," Gerzmava says.
This trip and performance in the Polish city of Sopot was also remembered by Maya for the fact that while dancing with daggers, her husband, ensemble dancer Ruslan Chamagua accidentally stuck a dagger into his leg, but immediately deftly pulled it out of a bleeding wound and continued to dance.  This enthralled the local audience, and on the second day Polish newspapers came out with the headlines "Abkhaz Devils on the Sopot Stage".
The dancer on the stage must endure a lot, and often so that no one saw or noticed.  In this regard, the artist recalls another incident, also from touring times: another ensemble dancer, Rauf Dasania, then performed the Ossetian dance on his foot fingers, and no one knew that he was overcoming the infernal pain from abscesses.  "A few people went on tour, there were no replacements, and therefore they had to go on stage, no matter what happened, no matter how it hurts.  We felt a great responsibility, because, first of all, we represented the culture of Abkhazia and our people.  Therefore, we could not fail," Gerzmava shares.
"Fly into the dance"
Maya Gerzmava considers herself an absolutely happy woman, who was successful both in the profession and in the family.  The only thing that hurts her heart is that her husband and her closest friend Ruslan Chamagua passed away very early.  But Maya is happy today that she has children: daughter Maka son and Merab.  She is also the grandmother of four grandchildren.
According to Gerzmava, she could still do a lot as a teacher, train new soloists for ensembles.  But she was not able to seriously do this job and she considers her potential in this area to be unrealized.  But the artist was fully able to enjoy the dance itself and the feelings that the stage gives some of her favorites.
"The stage is everything for me!  I put it even ahead of my personal life.  This is another planet, another life.  There you fly into the dance, into this story that the choreographer tasked you, and you are no longer Maya, but a heroine in whom you need to reincarnate and convey her image to people.  For me it was happiness.  The stage is happiness," concludes Gerzmava.
And these words perfectly characterize the universally acknowledged "Queen of the Abkhaz dance".
Happy Birthday, Maya Dzhguatovna, Happy Anniversary!  Many happy days and longevity to you, well-being to your family!