After a short break, the World Abaza Congress reopened the Abaza language courses in Moscow. 
The WAC resumed Abaza language courses in Moscow after a short break. These classes were organized on the initiative of Maryana Karmova, an English teacher at the Financial University under the Government of the Russian Federation. The Chairman of the Supreme Council of the WAC Mussa Ekzekov supported the resumption of the courses and approved the monthly financial remuneration for the language teacher.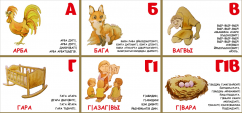 Illustrated Abaza alphabet: a teaching manual in pictures
In the last academic year, two groups of students were studying - the senior and the junior.
"In the senior one there were 11 people, in the junior - 14. With the junior group, classes were held in a playful way with an emphasis on new vocabulary, with the senior one speaking was the priority," said the author of the courses.
This year, due to the situation with the spread of coronavirus infection, classes will be held remotely. The Abaza will be taught by Fatima Ionova, the administrator of the well-known public "Abaza byzshva" (translated from Abaza - Abaza language - ed.), head of the Abaza kindergarten "Abanpara" (translated from Abaza - generation - ed.) in Cherkessk.
"Fatima has excellent experience in teaching according to the Montessori system (the pedagogical system, proposed in the first half of the 20th century by the Italian teacher and physician Maria Montessori, is widely used in the modern world in raising children - ed.). She also taught English at a Chinese school. Fatima is very result-oriented, she is an enthusiast and puts her soul into the process of teaching the Abaza language. We exchange teaching experience, because I am also a teacher, an English teacher," said Maryana Karmova.
She added that this year both the senior and junior groups will continue to study the language. The junior group is already fully staffed, and those who wish can enroll in the senior group. To do this, one has to contact Maryana Karmova at +7 (926) 666-38-26.
One of the main tasks of the World Abaza Congress is the preservation and development of the Abkhazian and Abaza languages. To this end, the WAC annually supports various projects for the development of the Abkhazian and Abaza languages, including by opening language courses around the world.