Charitable and public organizations of the Republic of Turkey followed the example of the WAC action "Soul Warmth" and helped the families in Abkhazia by launching the "Touch the Hearts" campaign.
Said Bargandzhia
Turkish charitable and public organizations "Apsuara" and "Abazamara", together with the Kayseri city's Caucasian cultural center and "Kiaraz", a charity organization, held an action called "Ргәаҿынӡа ҳнаӡап" (from the Abkhaz translated as "Touch the hearts" - ed.) to help low-income families from Abkhazia.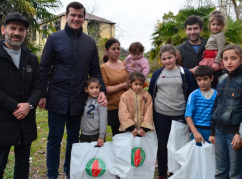 Winter shoes sets distributed to those in need in Abkhazia on New Year's Eve
The WAC web information portal was informed about it by the coordinator of the "Apsuara" group, Selcuk Symsym.
He noted that the result of the action was collected clothes for children and adults, stationery and toys, "a whole truck of help".
"When we learned about the number of needy families and children, saw their photos, we were surprised and very upset. I saw how these pictures made many people cry. We could not remain indifferent to the problem and quickly mobilized and decided to start the action", the coordinator shared.
During the month, public and charitable institutions, villagers and individual representatives of the Abkhaz-Abaza Diaspora living in Turkey, collected things for compatriots in their historic homeland.
"It is worth noting that many, not being representatives of the North Caucasian peoples, supported the campaign. All things have already been transferred to Abkhazia by the charitable public organization "Kiaraz", said Symsym.
For representatives of the Abkhaz-Abaza Diaspora in the Republic of Turkey, the "Touch the Hearts" campaign is not the first such help. In January of this year, the action "Soul Warmth" was launched, organized by the WAC, ANO "Alashara" and the Federation of Abkhaz Cultural Centers in Turkey. Earlier, in September 2018, compatriots from Turkey collected and delivered 1,200 sets of clothing to families in Abkhazia.